Access our free guidance brochures ›



Offshore insurance contracts are not low cost
Usually offered as 'free advice' the commissions paid are eye watering and not disclosed by offshore advisers. New EU rules for 2019 require such disclosure but we are finding that advisers are still avoiding talking about commissions and fees.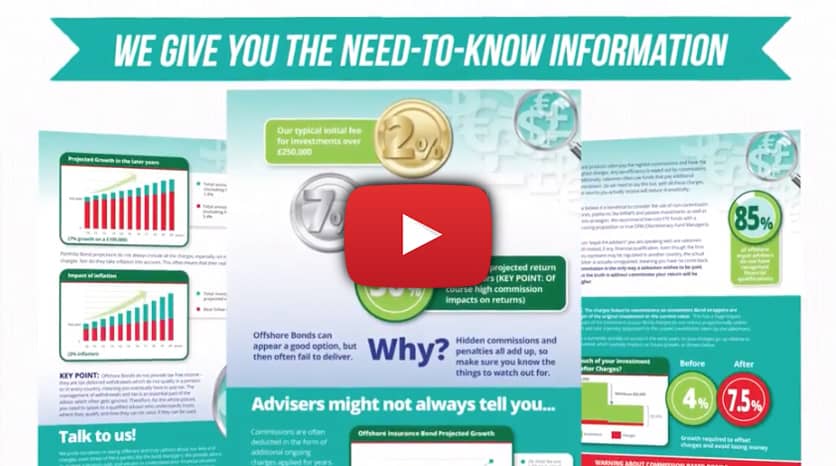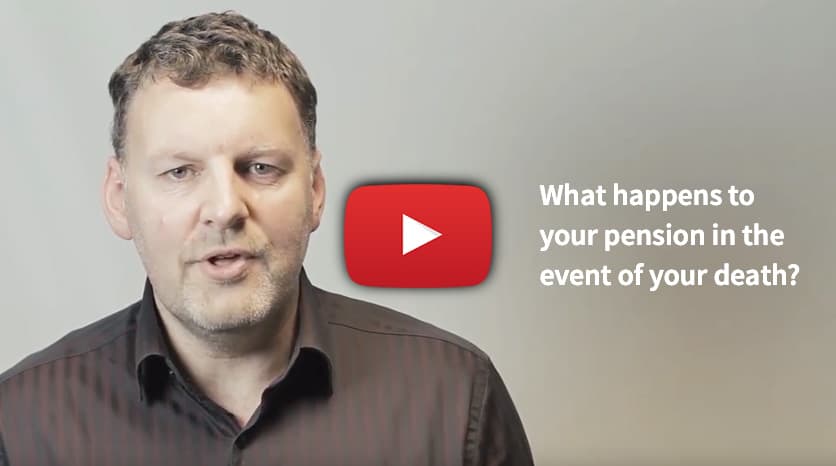 QROPS have decimated many a retirement fund
Always use a transparent fee-based adviser firm, take advice if you have been sold a QROPS in a bond with our free forensic analysis report

SIPP & QROPS Fees | Commissions Explained
We list below the key QROPS fees and SIPP fees you can expect to pay, and how you can avoid being charged too much.
Background information
Many people fail to ask questions about fees, charges and commissions, nor compare QROPS fees against SIPP fees; even when they do they fail to conduct any due diligence on what they are being told.
Reports we have seen simply detail "trustee charges" and a 1% custodian service charge. Sometimes, to entice the consumer then an element of the intial commission is mentioned as rebated but this has no impact on the charges at all; the charges apply as they are linked to commission paid out, not rebates to clients.
It is important to understand that what you get back from your investments is not purely down to performance, but also the QROPS fees, charges and commissions which will start to eat into your return on investment. This could significantly reduce or eliminate any earnings on your pension funds.
Our aim is to be transparent, fair and offer worry-free advice in a consistent manner. Criticise us if you want, but we want to put the consumer first.
Our transparent fees outlined
TailorMade pensions for expats do not charge commission, rebating it all. Our standard fee's are on this link:
How we charge ›
---
There will be occasions where our standard fee will not apply, examples could include additional complexity to your arrangements or additional work / advice or additional travel required.
All bond & pension commission fully rebated
As we do not charge commission, we provide a comparison of how fees versus commissions actually works where commission has been taken and give an example below; it makes good reading for any client who wants transparency and open honest advice. This example is a british pension case of £150,000: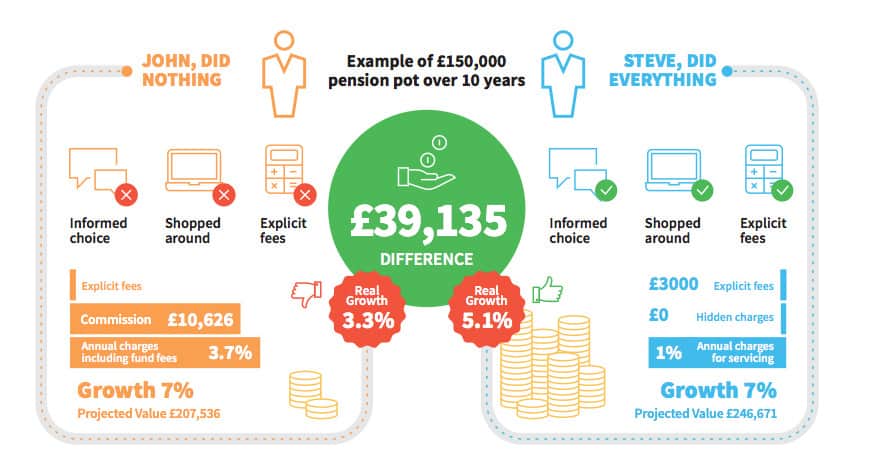 In retirement Steve will have £9,867 per annum, whilst John will only have £8,301.
Once the pension is in payment, considering the higher fund charges that John is receiving then over the next 10 years his fund will go down in value. Steve will have a fund that is still growing and will potentially last forever (not guaranteed).
Comparative Example
We go into detail with real life case studies at Tailormade Pensions which allows you to compare and contrast how we work and how an offshore commission salesman operates. Tailormade Pensions ›
Below we give a typical example in writing. We assume you are living outside the UK and USA, and you wish to consider a pension transfer but you are unsure. The value of your pension fund is £350,000.
We will charge you £1,000 if you want our OPTIONAL STRATEGIC PENSION PLAN. We will do the TVAS report and CASH FLOW forecasting within this charge.
If we think it is best you transfer (and only if we think this and you agree) then we will provide TRANSFER IMPLEMENTATION at a charge of 2% (discounted from 3% because you paid for the Plan). This is £7,000.
Because you paid for the TRANSFER IMPLEMENTATION then you will not have to pay for the STRATEGIC INVESTMENT PLAN (none USA residents). £0
The total cost for receiving a plan with good advice from a UK regulated broker will be £8,000.
The offshore commission salesman will not charge a fee usually, but he will earn around £21,000 – £31,500 commission for convincing you to transfer, irrespective of whether it is best advice. We therefore will save you between £13,000 and £23,500 in commission charge alone, and around another £20,000 in other hidden fund charges over 5 years.
We are regulated to give advice in the UK by the Financial Conduct Authority (FCA), and to give advice in the USA by the Securities and Exchange Commission (SEC) but this example is for outside both of those territories. Contact us if you live in the UK or the USA for advice by one of our regulated and authorised advisers in that country.
Typical concerns about QROPS fees
Some of the more common issues and concerns we assist clients with include:
One or more of my investments have become worthless
The adviser, who I trusted, has disappeared
My investments are going up theoretically but the overall investment isn't, why?
I do not understand why the charges are much higher than expected
The pension doesn't appear to be performing as expected
I don't think I'm being told the whole story about QROPS fees
My pension income is being reduced, or I have been told my fund will run out
If any of these apply to you, why not review your QROPS to see if you have been incorrectly advised, or if your QROPS fees are too high. It may be possible to:
Reduce ongoing charges
Remove the Life bond
Review the portfolio in line with your risk
Review if a QROPS is still appropriate for you by comparing it to a SIPP
Avoid making the wrong decision
The right advice comes with total transparency and recommendations from regulated specialists.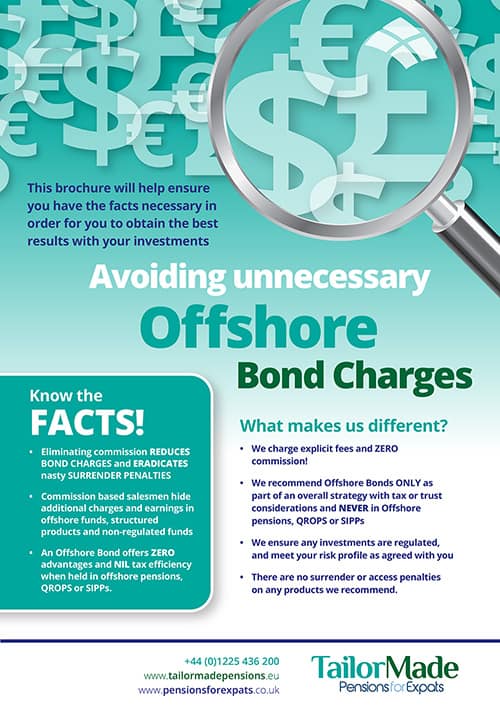 ---
---
SIPPs
There are many benefits of a UK Self Invested Personal Pension scheme…
Read more
QROPS
There are many benefits that a Qualifying Recognised Overseas Pension Scheme…
Read more
QNUPS
Qualifying Non UK Pension Scheme are actually a natural progression…
Read more
Tax free cash benefits
Plan how to best take your benefits from your pension…
Read more
Download your
Free Guide
to Investing
How we can help you
Would you prefer UK qualified experts to provide competent advice, rather than an offshore salesman seeking commission?
Are you no longer resident in the UK or considering moving abroad?
Do you have more than £50k in your UK pensions?
Would you like to pay less tax and have greater investment freedom?
If you answered YES to these questions, Pensions for Expats could greatly improve your financial and tax situation.