Access our free guidance brochures ›



Great tax planning opportunity for UK pensions
UK pensions offer Inheritance Tax exemptions, often misunderstood by offshore advisers. A UK pension can provide many tax planning opportunities both now and after you have gone.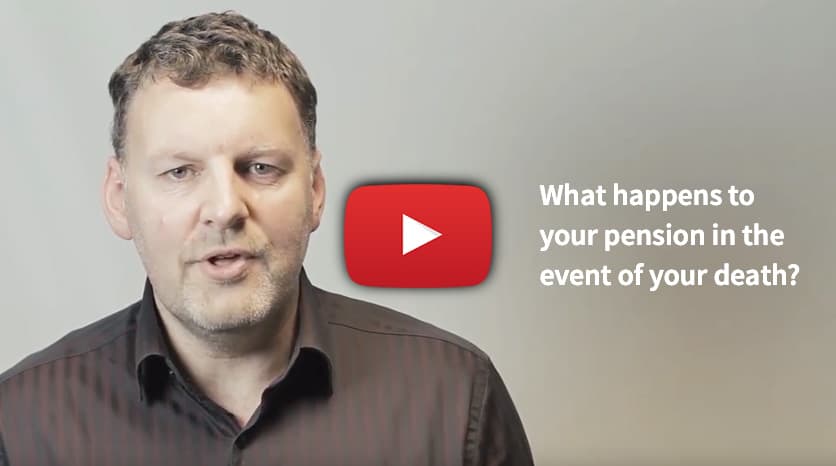 Tax Free Cash Benefits
Can you access your pension tax-free? We publish simple information below to allow you to decide
Bang! April 2015 has led to the starting gun being fired on people accessing their pension funds to pay off debts, buy new assets or just invest elsewhere. Many of these people have done that without realising the tax implications, and already some are coming to us asking us if the decision can be reversed!
Also, widespread use of certain QROPS territories such as Malta, hide the fact that some countries (For example Switzerland) offer a fantastic opportunity.
Understanding the rules means you don't have to break them:
If you live in certain countries, especially in Europe, then you could benefit from tax efficient access in excess of anything available from either a SIPP in the UK or QROPS in Malta.
However, it is also key to understand that if you have multiple small pensions cumulatively less than £30,000 then you commute them all to cash in the UK, without advice, but you will be liable to income tax on 75% of that obtained.(see next points)
The income tax will be that in the UK, or it will be according to the Double Tax Treaty (DTT) of the country that you live in.
If possible, a better solution is accessing a fund of £28,000 or less split over 2 UK tax years; allowing for UK personal allowance will almost certainly result in minimal tax or no-tax being paid (to be clear, take up to £14,000 per annum).
There is no advantage, due to the high costs, of anyone utilising a QROPS to access funds of £30,000 or less, other than in exceptional circumstances.
Often, advisers overseas utilising a QROPS for small funds is not for the clients benefit, but purely for commission and earnings reasons for the adviser.
If you have multiple small pensions less than £30,000 then you may be able to commute them all to cash, prior to 6 April 2015.
For larger funds, most people will have the option of commuting all their pension funds up to 100% (Only 25% of this will be UK tax-free and the remainder will be taxed according to the DTT of the country you live in. More ›
Again, prudent use of encashment in different tax years could result in very low or no-tax being paid utilising the new UFPLS regime in the UK.
Death taxes removed for everybody under 75 – no 45%, nor 55% tax, for Beneficiaries.
SIPP will give the option to choose various low cost structures, that can be utilised post death as well.
Conclusion
Receive small pensions with zero tax deducted from the UK either through the use of UK personal tax allowances, or through use of DTT's or a combination of the two. Even larger pensions can have careful financial planning to ensure minimisation of tax. We do not recommend anyone even considers a QROPS until their funds are at least £150,000 other than jn exceptional circumstances, or unless they live in a country that has specific QROPS dispensation for its own residents (for example, New Zealand, Switzerland or Australia). More ›
Typical points or questions for taking funds from pensions after April 2015:
| | |
| --- | --- |
| | |
| I have UK pensions ( excluding state pensions) worth less than £30k; or | |
| I have UK pensions ( excluding state pensions) less than £150,000 and am happy to plan for the minimisation of tax over a few years using the new UFPLS regime | |
| I understand I may live anywhere (including the UK) | |
| I am over the age of 55 and need advice | |
| I have already purchased an annuity with my money? | |
| I have taken my PCLS, or am drawing on income from my fund? | |
| My company/occupational pension is already in drawdown? | |
| I am still a UK resident and have no intention of moving overseas? | |
| I am overseas, so can I still benefit? | |
| I do not live in France, Australia, USA, Switzerland (list not comprehensive) | |
The last point is merely a guideline of some countries where there are other options to be considered that may be better, or there may be double tax implications which need to be taken into account.
Why pay tax that you do not have to? Increase your flexibility for taking tax free cash
Depending on your status, along with future living plans, we can answer your queries and provide qualified and expert advice, without any further obligation from you. The key here is that one size does not fit all. However, anyone with a UK pension scheme who now lives overseas as an expatriate, or is planning to leave the UK, can now receive advice from UK experts that will avoid them breaking the law and have the UK HMRC pursuing them for tax penalties of 55% or more.
Should I consider a QROPS to utilise tax free cash?
Depending on the jurisdiction chosen for the Pension Scheme, there is the potential for greater tax free cash from a QROPS and this should be considered for people who live in certain countries like New Zealand or Switzerland (not a comprehensive list, just examples). People with large funds in excess of £600,000 can also consider QROPS as an alternative irrespective of which country they live in. Contact us for advice.
AVOID HUGE COMMISSIONS: We will conduct business at minimal cost to you
Contrary to how most overseas expat advisers operate, we work exclusively on a transparent fee-based model, and do NOT charge any commissions. Click for more information on who we are and how we charge › and comparing Fees versus Commissions ›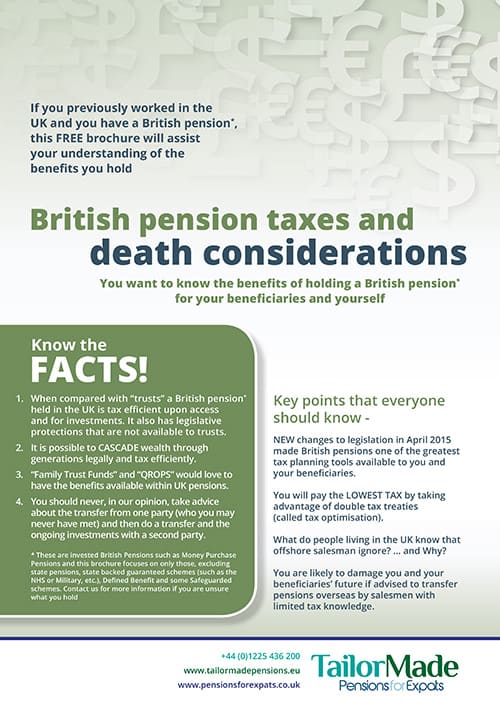 ---
---
SIPPs
There are many benefits of a UK Self Invested Personal Pension scheme…
Read more
QROPS
There are many benefits that a Qualifying Recognised Overseas Pension Scheme…
Read more
QNUPS
Qualifying Non UK Pension Scheme are actually a natural progression…
Read more
Tax free cash benefits
Plan how to best take your benefits from your pension…
Read more
Download your
Free Guide
to Investing
How we can help you
Would you prefer UK qualified experts to provide competent advice, rather than an offshore salesman seeking commission?
Are you no longer resident in the UK or considering moving abroad?
Do you have more than £50k in your UK pensions?
Would you like to pay less tax and have greater investment freedom?
If you answered YES to these questions, Pensions for Expats could greatly improve your financial and tax situation.