What should you try to avoid?
If you do not want to lose large segments of your retirement and investment funds, like many other people have, then you should be aware of the potential red flags below.
If you were told your advice is free, see our Question and Answer section below.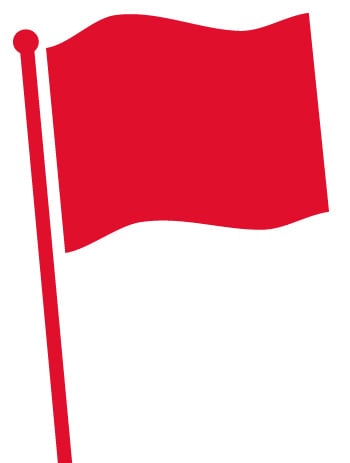 5 POTENTIAL RED FLAGS
– spurious benefits that often do not exist
---
1. You are advised to transfer British pensions to "Investment Platforms" within a QROPS or international SIPP, for flexibility, security, protection, currency, access and income.
2. You are advised to transfer UK pensions and investments to offshore insurance bonds in Isle of Man, Dublin, Luxembourg (Lombard), Caymans (Investors Trust), Bermuda (Custodian Life) and Mauritius (Providence) for supposed tax efficiency and greater protection.
3. You are led to believe that you will receive 5% pa income tax free as a result of advice, no matter where you live.
4. You may be led to believe that you will obtain greater growth or investment freedom by transferring out of regulated territories, as there are more options available and you are shown strong past performance or given guarantees.
5. You may be led to believe that your money will be safe from UK government tax grab and have greater protection, away from fund collapses reported in regulated territories (Maxwell or British Home Stores often quoted).
---
All of the above ARE SALES TECHNIQUES LOSELY BASED ON FACTS THAT ARE OFTEN SPURIOUS to most people. They lead to Offshore Investment Bonds being recommended which have hidden commission charges. Your investment returns are damaged by the drag of higher ongoing charges linked to these higher commissions.
All of the reasons above are enticing, and can lead you to believe you have to take the advice to invest or transfer. However, you could be losing as much as 13% of your investment forever, with instant access penalties that apply for years. The question rarely answered is
"What is the best way of achieving your goals for your risk attitude that retains proper protection?"
---
---
Question
The advice I received was paid for by the product that I was sold. My adviser wrote, "We don't charge a fee, we are remunerated by the financial institutions".
My funds are not performing well and so I wanted to move them. I have discovered I cannot access my funds without a penalty charge.
I do not understand why this type of "free advice" is damaging my investment returns and restricting access?
Answer
Your product provider paid a commission to the adviser's company which is not reclaimable. If you want to access your funds in the early years (up to 10 years) YOUR funds have to repay this commission plus provider charges in the form of an access or surrender penalty. In the meantime additional charges are put onto your funds for years in order to recoup this commission. All these surrender penalties and charges impact on the future growth which compound up over the years to severely impact your investment or retirement fund.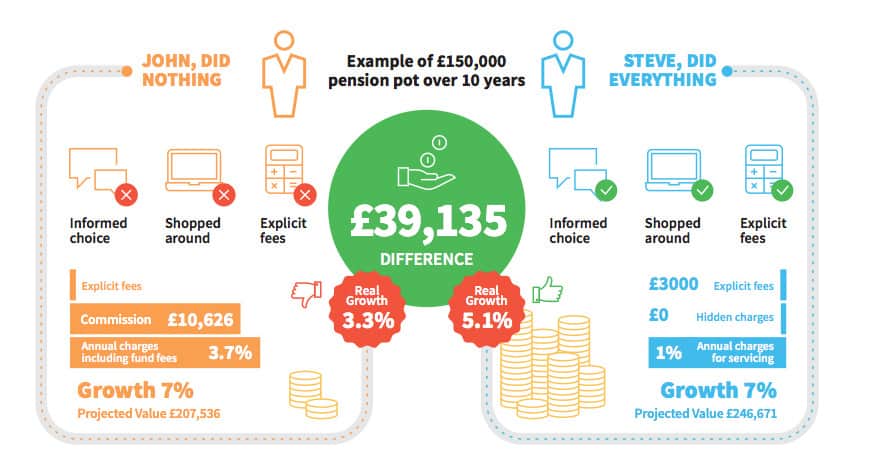 In retirement Steve will have £9,867 per annum, whilst John will only have £8,301.
Once the pension is in payment, considering the higher fund charges that John is receiving then over the next 10 years his fund will go down in value. Steve will have a fund that is still growing and will potentially last forever (not guaranteed).
---